If you have extra carpet, you can have your carpet repaired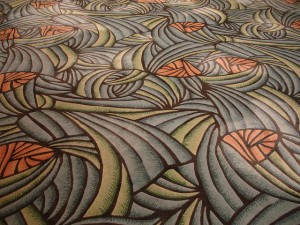 We need to have some of the original carpet in order to properly repair your carpet. It's very hard (almost impossible) to match carpet.
If you don't have any extra carpet, we can "borrow" some from a closet, then replace the closet's carpet with as close a carpet as we can find.
Will the carpet repair patch be invisible?
A carpet repair sometimes is totally invisible. Other times, it is evident that there has been a repair. It depends on many factors, including the type of carpet, the location of carpet, and age of the carpet. Even if there has been no traffic on the replaced piece of carpet, the carpet color may have changed from exposure to the sun.
Short nap carpet seams are more visible than long-fiber carpets. Repairs on older carpet will show the seams more than new carpet repairs. When repairing looped carpet, the direction of the repair is important.
In this article, we have discussed carpet patching. Carpet patching is just one of the services we provide, including:
Carpet stretching
Carpet patching
Carpet burn repair
Carpet → floor transitions
Berber carpet repair
Contact us for more information on expert Denver carpet repair!